Epilogue The PERSISTENCE of MEMORY
Epilogue The PERSISTENCE of MEMORY
Epilogue
The PERSISTENCE of MEMORY
....."When I consider the Stars of the Heavens,
and the multitude thereof,
What is man, that Thou art mindful of him?"
........The little Rudge rod from Hubert Damerells' shop is still in use, though not as much now; it has been broken and mended twice, and still serves today. Its' best fish was a six pound salmon, taken one June, on a size 14 'March brown' on a 6x cast, whilst trout fishing.
Its' owner has learnt many lessons-and has some more to learn yet. It used to be taken for granted, that the fishing in that river valley would always be there, today, tomorrow or whenever needed, and could not be imagined otherwise. Such vain arrogance could not go unpunished and indeed, the day came, when it
had
to be left, and others would come and take it, who cared little or nothing for it, or that rich, fertile garden and woodland; for the grand Estate was broken up and sold off, and its' tenant community made way, moved out by the highest bidder.
___________________________________
.....Those days from six decades past, should really be forgotten now, having no place in todays' harsh World, and the ghosts of those times allowed to rest in peace; but they will not rest yet, for the nagging ties of memory persist, and refuse to leave.
....On clear nights, on another river now, when the stars are at their very best and the sea trout are quiet, cold, ethereal mist, fills the air with many old voices and faces. Then does Time itself stand still and has no meaning.......And sometimes then, just for a few moments, thoughts slip back to the house by the bridge, lift the heavy iron latch on the side door and feel that flood of warmth from within;....and then remember; just how nice it was, to sink into a fireside chair, hear nothing but the voice of the river and the hissing 'Tilley' lamp close the eyes and know then, just at that moment, there was nothing else that really mattered.........very much.........at all.
******************
The Gallery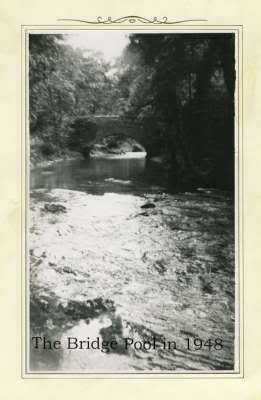 Side door 1949
Uncle, at the top of the rocks.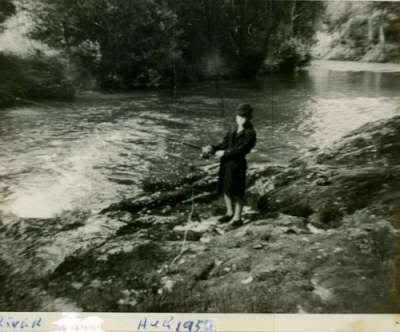 1949. My Family, I am seated on ground.
A VERY Important Visitor!