I awoke to find my part of Shropshire veiled in frost and mist - it was a stunning morning - a great morning to go fishing, so guess what I did.
It remained lovely, through Staffordshire and it wasn't until i crossed Blithfield that it started to dull.
I arrived on the Dove shortly after 11am and it looked in fine fettle, and i was pleased to find this short beat empty.
I know this beat pretty well and i can find the fish without too much trouble, but my first few spots didn't produce, which was unusual, however as I walked up to a favoured run, my confidence was rewarded with a solid take, but this was no Grayling, but my first river trout of 2011 - out of season, but in pretty good condition. A tell-tale leach showing that the fish had been pretty much welded to the river bed...a good start.
Then the ladies turned up, slow to start, but as the sun broke through they came more frequently, i ended up with 19 Ladies, with a few nice ones amongst them - but no monsters.
Excuse my Black & White experiments (I'm thinking Sepia next)
These fish really do vary in colouration - some are similar to the dark colouration of Dee fish, whereas some have the Pastel hues i associate with Severn and Teme fish.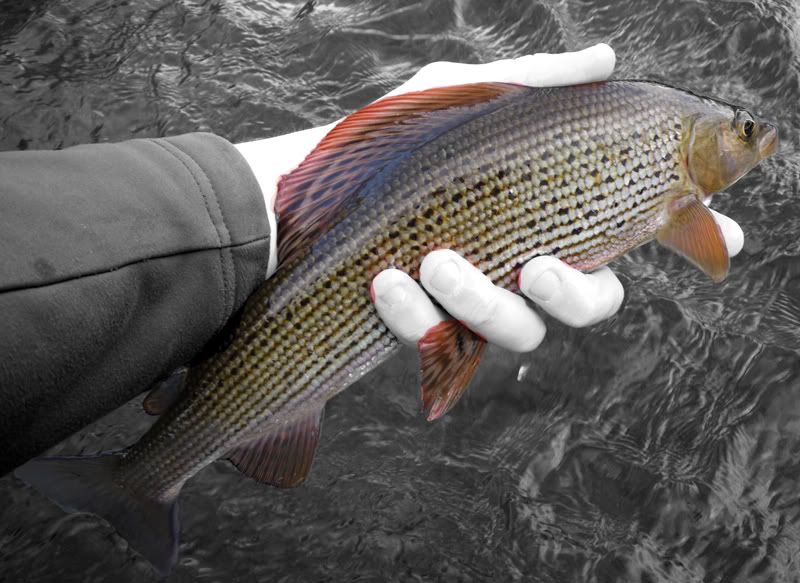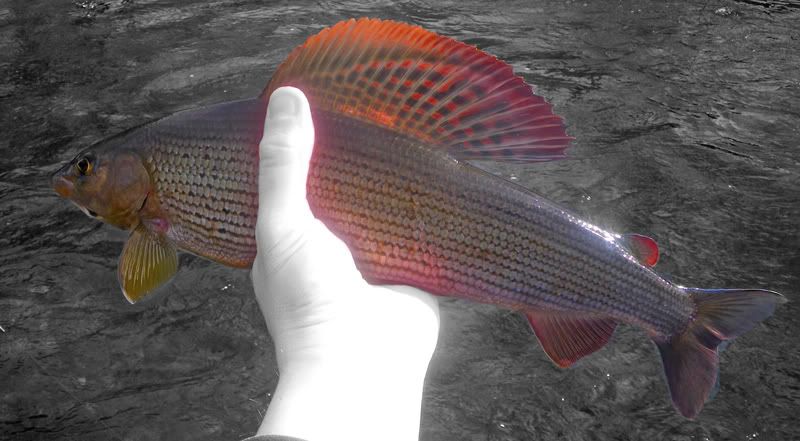 At 2pm i decided on a move, and to try a lower beat ive never fished before.
It was a pretty stretch, and has some serious potential for Trout & Grayling - but i need to have a good look at it in the spring to work it out better, as the light was fading it was difficult to get an idea of depths - i will be back...as i have an bone to pick with a rather large fish, probably a Barbel - that picked up a bug and made a mockery out of my 7'10 3wt and 4lb tippet! Fun whilst it lasted with me running down the bank!
I didn't catch on this beat and I didn't take my big camera either, having left it in the car - a shame really as the light was stunning! So this is from my phone
Its a bit different to Dovedale down here!
A good end to a hard few days...
Hoppy